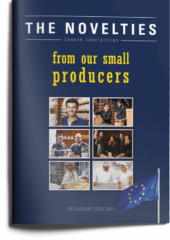 2020-2021
Novelties Catalogue
Discover our latest selection of original and exclusive cheeses, which perfectly reflect the artisan work of our producers from France and all over Europe. This selection has been especially developed to make your cheese counter stand out, with different specialties, flavours and quality levels.
2020-2021
Catalogue Sélection Exclusive des Crémiers
Our "Sélection des Crémiers" brings together the most exquisite cheese specialities from all regions of France and Europe, from Normandy and the Basque Country to the Jura Mountains, Switzerland and Italy. These cheeses come from selected small cheese dairies or farms that have dedicated themselves for several generations to the subtle art of artisan cheese production. Here you will also find our exclusive cheeses from the Prestige range, which includes the brands Xavier David, Maison de la Truffe, Marcel Petite, Maison Lorho, Moléson Signature and Selezioni d'Autore.
2020-2021
The cheese cellar
Our cheese bible, "La Cave à Fromages" brings together all our well-known brands, bestsellers, exclusive products from our partners, as well as cheese specialities created by our master cheese maker: Picandine, Isigny Sainte Mère, Marcel Petite, Papillon, Création d'Argental, Tradition-Emotion, Affinage d'Excellence, M. Grossrieder. This catalogue also includes our entire organic range, cheese specialities from all over Europe, butter, cream, fresh cheese and yoghurt. Many of these carefully selected products have made their way through the centuries without losing any of their authenticity.