Looking for the perfect cheese offer for Christmas?
The new trend at Fromi: "A Fresh Take on Cheese". Our new products catalogue, as well as our Christmas and Raclette & Fondue catalogues, are available free of charge upon request.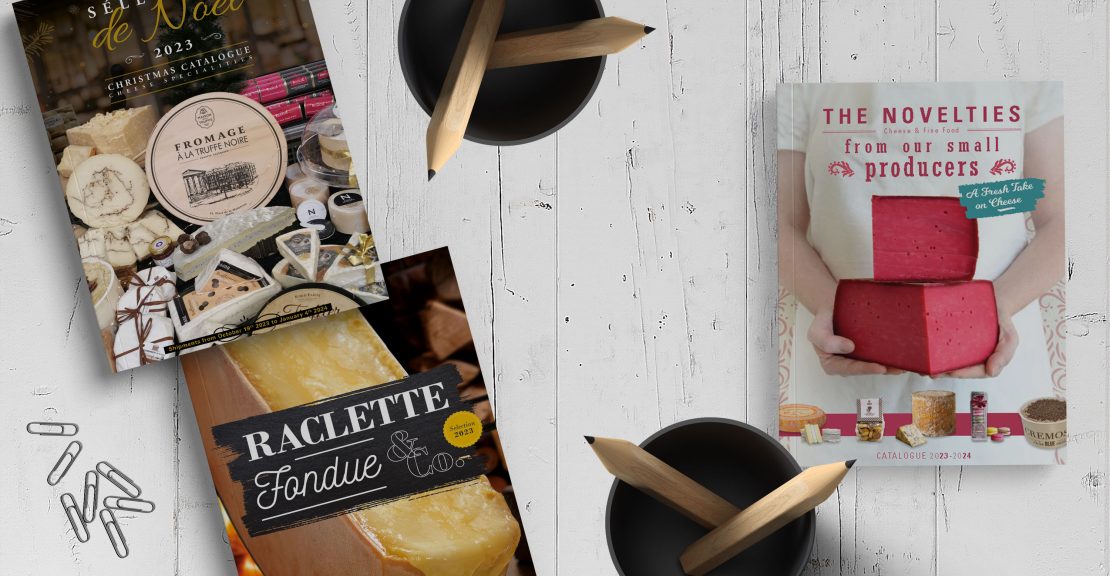 OUR CATALOGUES ARE NOW AVAILABLE
Christmas 2023, Raclette Fondue & Co
As the days get shorter and the cooler temperatures tell us winter is on its way, your customers start looking forward to the promise of cosy, comforting evenings with a raclette! And for you, the Christmas catalogue is the ideal support for your cheese offer in the run-up to the festive season.
AND TO FURTHER COMPLETE YOUR SELECTION
Novelties Catalogue 2023-24
It has just been released!
The cover features the Swiss Pink Queen Cheese with its dark pink paste. Its unique look won't go unnoticed.
This year, our master cheesemaker Vincent Christophe travelled to England. Using his expertise, he has put together a selection of top-quality stiltons and unique cheddars from the town of Cheddar.
In "Our exclusive brands" section, you'll find many new products waiting to be tasted. Triplerousse d'Argental is the latest addition to the brand's Rousse family of soft cheeses with an orange-red washed rind. It is a variant with a blend of three milks: cow's, ewe's, and goat's milk.
The Barbichette range has two new additions, Brill'ant and Saint Maxime, a goat's milk cheese with seaweed.
Our historic grès® range is celebrating its 40th anniversary. For the occasion, a Grès® from the Centre-Loire region has been added to a selection that's well worth rediscovering.
Gutshöfer, a gouda flavoured with honey and thyme, will bring a floral note to your counter.
Once again, this year, Swiss cheese creator Kevin Koch has come up with some surprising new products: Cannalina, a cheese coated with a mixture of hemp leaves, flowers, and oil, and Croccanta, a raclette with figs and walnuts.
To finish on a sweet note, Fromi continues to innovate with its surprising chocolate creations filled with blue cheese. These have been created by our master cheesemaker and the Moro cheese dairy: chocolate entremet and Mini -Pralines Choco Moro, not forgetting the Cremoso al Cioccolato.