Our humanitarian commitments
Fromi encourages and supports humanitarian and educational initiatives together with its employees. Since 2009 we have been supporting Welthungerhilfe, one of the largest German NGOs fighting poverty and hunger in the world. And for the end of this year we are also supporting an abbey in a sustainable agricultural development project.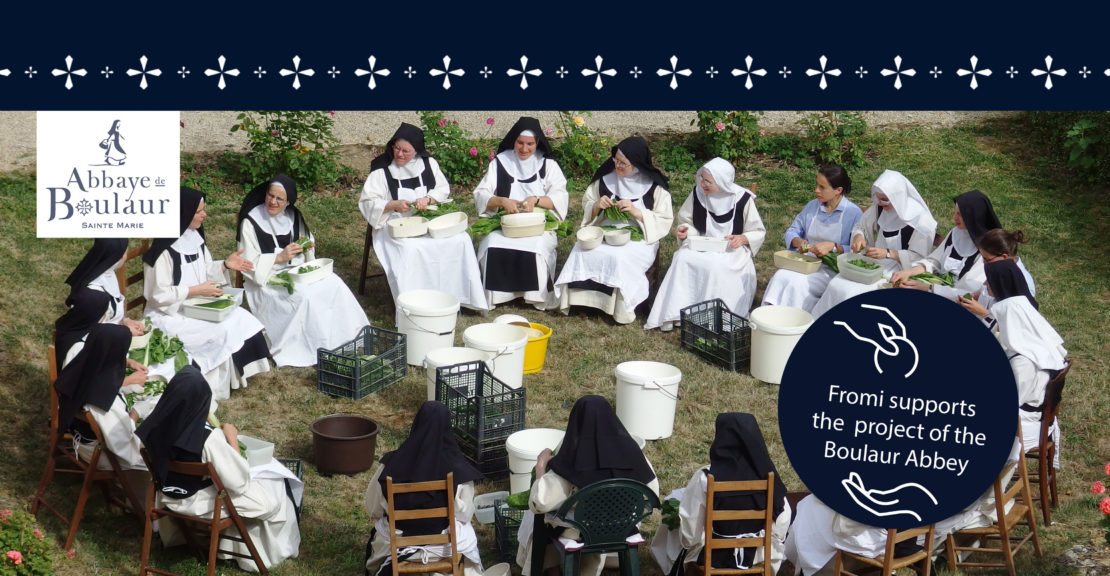 Fromi and Sainte Marie de Boulaur Abbey
For a self-contained monastic barn
With Fromi, take part in the adventure of the Sainte Marie de Boulaur Abbey and discover how your orders will support them in the realisation of their daring project: to develop their farm and make this beautiful place for sharing and meeting!
This community of 31 nuns lives from their small organic farm. Wishing to increase and diversify their production, they have launched a development project, the construction of a new monastic barn, which will house a cowshed, a new production site, a reception area and a shop. The nuns will thus be able to enlarge their herd of cows and make the abbey a real place of sharing and meeting. Having been very touched by their adventure, and to help them in the realisation of this 4.1 million euro project, Fromi has decided to participate and to pay them back 2.5% of the turnover achieved from October to December, on a selection of products!
We would already like to thank all our customers, as it is thanks to you that their beautiful project will be able to be fulfilled!
More information on our support to this project
---
Fromi and Welhungerhilfe
Against world hunger
Since over 20 years now, Fromi has been supporting the German NGO Welthungerhilfe and its action against world hunger. We donate to the NGO 25 cents per kilo of Xavier David cheese sold. We have financed projects in Bolivia and Tajikistan and since 2018 we have been supporting a 5-year project to accompany small dairy farmers in southern Kenya. Since 2009, Fromi has already donated more than €140,000 to Welthungerhilfe.
The Kenyan project aims to help the nomadic pastoralists of the Emparnat cooperative, located in Kajiado in southern Kenya. The objectives are to train the women who exploit the milk from their cows and to finance milk production equipment.
Since the project was launched, the 400 women of the Emparnat cooperative have been trained in milk hygiene and the production of fermented products such as yoghurt or maziwa mala, a kind of sour milk. In 2019, Patricia Cothenet and Joelle Flajolet, marketing and purchasing managers at Fromi, travelled to Kenya to evaluate the impact of our action with Welthungerhilfe. They were able to see how the women were able to train and earn money for the first time thanks to the sales generated!